First round of national titles awarded as elite competition gets under way at 2022 USA Gymnastics Championships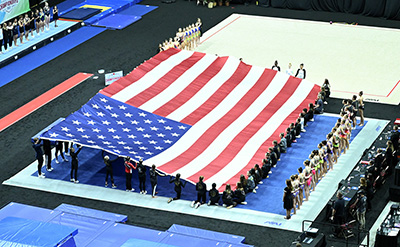 Watch live and archived streams on FlipNow
DES MOINES, Iowa (June 23, 2022) – Elite competition at the 2022 USA Gymnastics Championships kicked off Thursday evening at Wells Fargo Arena in Des Moines, Iowa. National champions were crowned in the acrobatic and rhythmic disciplines. Trampoline and tumbling athletes were also in action for the first of two days of individual event qualifications ahead of Saturday's finals, while synchronized trampoline titles were awarded Wednesday at the Iowa Events Center.
Felix and McDougall reign in acro
World champions Angel Felix (Moreno Valley, Calif.) and Braiden McDougall (Riverside, Calif.) of Realis Gymnastics Academy claimed their third national championship in the men's pair dynamic exercise with a 29.550, their highest score of the 2022 season. Their Realis teammates, Katie Borcherding (Pacific, Mo.) and Cierra McKown (Riverside, Calif.), who are the reigning World silver medalists in the women's pair balance exercise, earned their first senior national title with a 27.630. Meanwhile, the quartet of Ethan Chang (Columbia, Md.), Sam Lacy (Columbia, Md.), Cade Shields (Columbia, Md.) and Dorian White (Castro Valley, Calif.), who captured bronze at the Maia World Cup in May, and the trio of Mariam Tutberidze (Owings Mills, Md.), Grace Vonder Haar (Laurel, Md.) and Kayla Vonder Haar (Laurel, Md.), all of Emilia's Acro Gymnastics and Cheer, led the way in the men's group balance exercise and women's group dynamic exercise, respectively, with scores of 28.810 and 28.690.
On the junior side, Realis' Seva Ossolodkov (Beaumont, Calif.) and Yaroslav Ossolodkov (Beaumont, Calif.) snared the 13-19-year-old men's pair balance title with a 27.000. Allyson Stone (San Antonio, Texas) and Ayla Vargas (San Antonio, Texas) of Acrobatic Gymnastics of San Antonio topped the 13-19 women's pair balance field with a 28.700, and the women's group from International Elite of Gia Calo (Annapolis, Md.), Sarah Wilson (Annapolis, Md.) and Grace Wright (Harwood, Md.) captured the 13-19 dynamic exercise title with a 26.840.
The competition will continue Friday with the 13-19 men's and women's pair dynamic exercises and women's group balance exercise, in addition to the senior men's pair and women's group balance exercises and women's pair and men's group dynamic exercises.
Griskenas leads rhythmic
Olympian Evita Griskenas (Orland Park, Ill./North Shore Rhythmic Gymnastics Center) sits atop the senior rhythmic all-around standings after two rotations with a combined 64.900. She delivered a 34.500 to secure her second national hoop title. Alexandria Kautzman (Simi Valley, Calif./California Rhythms) claimed bragging rights on ball with a 30.750. The all-around champion will be determined Saturday night based on combined scores across all three days of competition, which will include two performances on each apparatus.
In the junior division, Rin Keys (Porter Ranch, Calif./Burlo Gymnastics) set the all-around pace with a 61.150. The 2022 Ritam Cup junior all-around silver medalist bagged a pair of junior titles Thursday after posting a 30.700 on hoop and 30.450 on ball. Junior groups took the floor to show five ropes with the quintet of Goda Balsys (Northbrook, Ill.,), Annabella Hantov (Chicago, Ill.,), Kristina Lee (Woodridge, Ill.,), Isabelle Novoseletsky (Highland Park, Ill.) and Kalina Trayanov (Deerfield, Ill.) of North Shore Rhythmic Gymnastics Center emerging victorious behind a 22.350.
Junior and senior clubs and ribbon champions will be crowned Friday, as will the junior group five balls champion.
Ahsinger/Webster and Bly/Light take synchro titles
Trampoline and Tumbling Express teammates Nicole Ahsinger (Lafayette, La.) and Sarah Webster (Lafayette, La.), who earned silver in synchronized trampoline at the AERE World Cup in May, captured the women's synchro title Wednesday with a 47.760. The duo of Joshua Bly (Hilliard, Ohio) and Smith Light (Dublin, Ohio) from Integrity Athletics finished atop the men's standings with a 44.100. Ava DeHanes (Holmdel, N.J.) and Alexandra Mytnik (Manalapan, N.J.) of Elite Trampoline Academy picked up top honors in the junior women's category, while Xavier Harper (Oak Ridge, Tenn./Premier Athletics Knoxville) and Micah Miner (Glen Carbon, Ill./Kris Power Tumbling) captured gold in the junior men's division.
Qualifications in men's trampoline and tumbling and women's double mini led off individual competition Thursday. World all-around silver medalist Cody Gesuelli (Huntsville, Ala./Merino Trampoline Gymnastics Academy) paced the trampoline field with a 57.330, while two-time individual World tumbling bronze medalist Kaden Brown (Herriman, Utah/Wastach Trampoline & Tumbling) posted the day's high tumbling score of 55.067. Reigning World silver medalist in women's double mini Shelby Nobuhara (Mapleton, Utah/High Altitude) set the tone on her signature event with a 52.200.
Men's double mini and women's tumbling and trampoline qualifications are on deck for Day 2, with event champions across all divisions set to be determined Saturday.
All Friday sessions will stream live on Flip Now Powered by USA Gymnastics. Seniors are set to take the floor at 7 p.m. ET. Today's competition is also available to view at FlipNow.tv.
Top-three placements for national titles awarded Wednesday and Thursday are listed below.
Acrobatic Gymnastics
13-19 Women's Pair Balance Exercise
Ayla Vargas and Allyson Stone, both of San Antonio, Texas/Acrobatic Gymnastics of San Antonio, 28.700
Sydney Padios and Willow Noble, both of Moreno Valley, Calif./Realis Gymnastics Academy, 28.050
13-19 Women's Group Dynamic Exercise
Gia Calo and Sarah Wilson of Annapolis, Md., and Grace Wright of Hardwood, Md., all of International Elite, 26.840
Sofia Martinez, Hannah Davis and Gabriella Vathy all of San Antonio, Texas/Acrobatic Gymnastics of San Antonio, 26.550
Ayana Williams of Columbia, Md., Dakota Cox of Gambrills, Md., and Cassie Karnbach of Arnold, Md., all of Emilia's Acro Gymnastics and Cheer, 26.020
13-19 Men's Pair Balance Exercise
Yaroslav Ossolodkov and Seva Ossolodkov, both of Beaumont, Calif./Realis Gymnastics Academy, 27.000
Senior Women's Pair Balance Exercise
Cierra Mckown of Riverside, Calif., and Katie Borcherding of Pacific, Mo., both of Realis Gymnastics Academy, 27.630
Mo Arthur of Rolla, Mo., and Ariana Katsov of Owensville, Mo., both of Mid America Acro Tumbling, 27.480
Senior Women's Group Dynamic Exercise
Mariam Tutberidze of Owings Mills, Md., and Grace Vonder Haar and Kayla Vonder Haar of Laurel, Md., all of Emilia's Acro Gymnastics and Cheer, 28.690
Isabel Chang of Columbia, Md., Maria Wooden of Derwood, Md., and Sydney Martin of Glenwood, Md., all of Emilia's Acro Gymnastics and Cheer, 27.740
Senior Men's Pair Dynamic Exercise
Angel Felix of Moreno Valley, Calif., and Braiden McDougall of Riverside, Calif., both of Realis Gymnastics Academy, 29.550
Senior Men's Group Balance Exercise
Ethan Chang, Sam Lacy and Cade Shields of Columbia, Md., and Dorian White of Castro Valley, Calif., all of Emilia's Acro Gymnastics and Cheer, 28.810
Rhythmic Gymnastics
Junior Hoop
Rin Keys of Porter Ranch, Calif./Burlo Gymnastics, 30.700
Jaelyn Chin of Aventura, Fla./Bessonova's School, 30.150
Megan Chu of San Diego, Calif./Ingenious RG, 30.100
Junior Ball
Rin Keys of Porter Ranch, Calif./Burlo Gymnastics, 30.450
Jaelyn Chin of Aventura, Fla./Bessonova's School, 29.600
Ksenia Pototski of Brooklyn, N.Y./Isadora by Matchpoint, 29.450
Junior Group Five Ropes
Goda Balsys of Northbrook, Ill., Annabella Hantov of Chicago, Ill., Kristina Lee of Woodridge, Ill., Isabelle Novoseletsky of Highland Park, Ill., and Kalina Trayanov of Deerfield, Ill., all of North Shore Rhythmic Gymnastics Center, 22.350
Ruby Freshwater and Sophie Freshwater of Basking Ridge, N.J., Sarah Novofastovsky and Ivanka Tarasyuk of Livingston, N.J., Alisa Sadykov of Summit, N.J., and Anastasia Slipets of Wyckoff, N.J., all of Liberty Academy of Rhythmic Gymnastics, 19.700
Karina Georgieva and Alexis Kalashyan of Sunny Isles Beach, Fla., Stefania Mishtal of Deerfield Beach, Fla., Natalia Ortigosa of North Miami Beach, Fla., and Violetta Plokhotnichenko of Bay Harbor Islands, Fla., all of IK School of Gymnastics, 18.650
Senior Hoop
Evita Griskenas of Orland Park, Ill./North Shore Rhythmic Gymnastics Center, 34.500
Lili Mizuno of Northbrook, Ill./North Shore Rhythmic Gymnastics Center, 32.200
Serena Lu of Staten Island, N.Y./Isadora by Matchpoint, 31.650
Senior Ball
Alexandria Kautzman of Simi Valley, Calif./California Rhythms, 30.750
Evita Griskenas of Orland Park, Ill./North Shore Rhythmic Gymnastics Center, 30.400
Serena Lu of Staten Island, N.Y./Isadora by Matchpoint, 29.700
Trampoline & Tumbling
Senior Women's Synchronized Trampoline
Nicole Ahsinger and Sarah Webster both of Lafayette, La./Trampoline and Tumbling Express, 47.760
Maia Amano of Honolulu, Hawaii, and Jessica Stevens of Ellicott City, Md., both of Fairland Gymnastics, 44.480
Ava Hernando and Michelle Sherman both of Holmdel, N.J./Elite Trampoline Academy, 43.540
Senior Men's Synchronized Trampoline
Joshua Bly of Hilliard, Ohio, and Smith Light of Dublin, Ohio, both of Integrity Athletics, 44.100
Changa Anderson of Washington, D.C., and Jack Collard of Silver Spring, Md., both of Silver Stars Gymnastics, 37.530
Cody Gesuelli of Huntsville, Ala./Merino Trampoline Gymnastics Academy, and Ryan Maccagnan of Colorado Springs, Colo./Stars Gymnastics, 10.710
Junior Women's Synchronized Trampoline
Ava DeHanes of Holmdel, N.J., and Alexandra Mytnik of Manalapan, N.J., both of Elite Trampoline Academy, 46.830
Leah Edelman of Holmdel, N.J., and Leah Garafalo of Cream Ridge, N.J., both of Elite Trampoline Academy, 45.500
Emma Bowman of Dublin, Ohio, and Hannah Leder of Hilliard, Ohio, both of Integrity Athletics, 40.890
Junior Men's Synchronized Trampoline
Xavier Harper of Oak Ridge, Tenn./Premier Athletics Knoxville, and Micah Miner of Glen Carbon, Ill./Kris Power Tumbling, 46.300
Gavin Britton of Bennington, Neb./Premier Gymnastics, and Van Larson of Phoenix, Ariz./Aspire, 43.690
Hudson Huggins of Ladera Ranch, Calif., and Max Poveda of Rancho Cucamonga, Calif., both of World Elite, 40.790