T&T athletes look to build on VIP Classic and Brescia World Cup performances at next week's USA Gymnastics Championships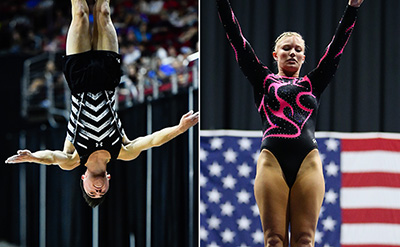 INDIANAPOLIS, June 20, 2021 – The top U.S. trampoline & tumbling athletes are set to compete next week at the 2021 USA Gymnastics Championships at The Dome at America's Center in St. Louis. In addition to serving as the national championships for men's and women's trampoline, tumbling, double mini-trampoline and synchronized trampoline, the competition is the final selection event for the Tokyo Olympic women's trampoline spot that World team silver medalist Nicole Ahsinger of Lafayette, La./Trampoline and Tumbling Express unofficially secured for the U.S. women at the Brescia (Italy) World Cup earlier in the month.

While Ahsinger – who took bronze in the women's division – and a contingent of trampolinists, including Charlotte Drury of Laguna Niguel, Calif./World Elite Gymnastics, Cody Gesuelli of Huntsville, Ala./Merino Trampoline Gymnastics Academy, Jeffrey Gluckstein of Atlantic Highlands, N.J./Elite Trampoline Academy, Aliaksei Shostak of Lafayette, La./Elite Trampoline Academy and Jessica Stevens of Ellicott City, Md./Fairland Gymnastics, represented the U.S. on the world stage in Brescia, numerous World and national champions descended upon Marion, Ohio June 3-6 for the VIP Classic – the second selection event of 2021.

In the senior division, U.S. bronze medalists Isaac Rowley of Allen, Texas/Eagle Gymnastics Academy and Hally Piontek of Warrensburg, Mo./Kansas City Trampoline Club took the men's and women's trampoline titles. World silver medalist Kaden Brown of Bluffdale, Utah/Wasatch Trampoline & Tumbling claimed the men's tumbling championship, while first-year senior Miah Bruns of Crete, Ill./World Champions Centre topped the women's field. In double mini-trampoline, World silver medalist Ruben Padilla of Bluffdale, Utah/Wasatch Trampoline & Tumbling and World gold medalist Tristan Van Natta of Westerville, Ohio/Integrity Athletics captured the men's and women's crowns, respectively. Jeremy and Joshua Cooper of Irvine, Calif./World Elite Gymnastics posted the high score in men's synchronized trampoline. Alana Cushing and Michelle Sherman, both of Holmdel, N.J./Elite Trampoline Academy, claimed the top spot in women's synchro.

The top-three VIP Classic placements on each apparatus are listed below.
Men's trampoline: 1. Isaac Rowley, Allen, Texas/Eagle Gymnastics Academy, 163.410; 2. Ruben Padilla, Bluffdale, Utah/Wasatch Trampoline & Tumbling, 159.925; 3. Zachary Ramacci, St. John, Ind./TwistStars Tumbling and Trampoline, 158.600
Women's trampoline: 1. Hally Piontek, Warrensburg, Mo./Kansas City Trampoline Club, 146.205; 2. Sydney Senter, Kailua, Hawaii/Merino Trampoline Gymnastics Academy, 145.875; 3. Georgeanna Gray, North Little Rock, Ark./Victoria Gymagic, 139.375
Men's tumbling: 1. Kaden Brown, Bluffdale, Utah/Wasatch Trampoline & Tumbling, 146.300; 2. Alex Renkert, Columbus, Ohio/Integrity Athletics, 137.100; 3. Charlie Larson, White Bear Lake, Minn./Twin City Twisters, 132.300
Women's tumbling: 1. Miah Bruns, Crete, Ill./World Champions Centre, 127.000; 2. Tia Taylor, Knoxville, Tenn./Premier Athletics Knoxville North, 124.000; 3. Sarah Thompson, Davis, Ill./J and J Tumbling and Trampoline Team, 123.300
Men's double mini-trampoline: 1. Ruben Padilla, Bluffdale, Utah/Wasatch Trampoline and Tumbling, 148.600; 2. Tomas Minc, Chevy Chase, Md./Dynamite Gymnastics, 147.500; 3. Alex Renkert, Columbus, Ohio/Integrity Athletics, 146.900
Women's double mini-trampoline: 1. Tristan Van Natta, Westerville, Ohio/Integrity Athletics, 137.200; 2. Trinity Van Natta, Hilliard, Ohio/Integrity Athletics, 134.900; 3. Shelby Nobuhara, Mapleton, Utah/High Altitude, 134.500
Men's synchronized trampoline: 1. Jeremy Cooper, Irvine, Calif./World Elite Gymnastics and Joshua Cooper, Irvine, Calif./World Elite Gymnastics, 78.070; 2. Tomas Minc, Chevy Chase, Md./Dynamite Gymnastics and AJ Noble, Austin, Texas/Champions Westlake, 60.960
Women's synchronized trampoline: 1. Alana Cushing, Holmdel, N.J./Elite Trampoline Academy and Michelle Sherman, Holmdel, N.J./Elite Trampoline Academy, 82.630
Athletes who participated at the VIP Classic and Brescia World Cup will look to build on their performances as they eye next week's national championships. Senior elite prelims kick off Friday at 2:30 p.m. CT ahead of Sunday's event finals at 2 p.m. CT. All senior elite individual trampoline, tumbling and double mini competitions will take place in a series of combined sessions, which will also feature the acrobatic and rhythmic disciplines.

The 2021 U.S. Trampoline & Tumbling National Team will be announced following the event. The trampoline Olympic team, including alternates, will also be named. Performances from the USA Gymnastics Championships, either the VIP Classic or Italy World Cup, and April's Elite Challenge will be used to determine 2021 World Championships assignments.

Daily and all-session tickets are available at Ticketmaster.com. FloGymnastics will also stream all USA Gymnastics Championships developmental and elite competitions live, beginning Monday, June 21.

Participating senior T&T athletes are listed below alphabetically by state.

Alabama
Paul Bretscher, Hunstville, Ala./Merino Trampoline Gymnastics Academy
Cody Gesuelli, Huntsville, Ala./Merino Trampoline Gymnastics Academy

Arkansas
Georgeanna Gray, North Little Rock, Ark./Victoria Gymagic

Arizona
Ghavyn Thompson, Phoenix, Ariz./Aspire Kids Sports Center
Jace Williams, Cave Creek, Ariz./North Valley Gymnastics

California
CJ Castiglione, Bakersfield, Calif./American Kids Sports Center
Jeremy Cooper, Irvine, Calif./World Elite Gymnastics
Joshua Cooper, Irvine, Calif./World Elite Gymnastics
Charlotte Drury, Laguna Niguel, Calif./World Elite Gymnastics
Nick Francken, Pleasanton, Calif./Tornado Sport Club
Merrill Hunter, Camarillo, Calif./Coach Pattys Gymnastics
Aniket Rahane, Ventura, Calif./Coach Pattys Gymnastics
Josh Rasoul, San Diego, Calif./So Cal TTC
Maya Yesharim, Ladera Ranch, Calif./World Elite Gymnastics

Colorado
David Ford, Firestone, Colo./Elevated Trampoline Sports Academy
Tenma Ide, Longmont, Colo./Elevated Trampoline Sports Academy
Elijah Vogel, Longmont, Colo./Elevated Trampoline Sports Academy

District of Columbia
Changa Anderson, Washington, D.C./Silver Stars Gymnastics

Florida
Marcus Daniely, Tampa, Fla./Suncoast Gymnastics Academy

Hawaii
Maia Amano, Honolulu, Hawaii/Merino Trampoline Gymnastics Academy
Sydney Senter, Kailua, Hawaii/Merino Trampoline Gymnastics Academy

Illinois
Miah Bruns, Crete, Ill./World Champions Centre
Lacey Jenkins, Mattoon, Ill./Integrity Athletics
Ariel Kibler, Arthur, Ill./Gymnastics Central
Kristle Lowell, Orland Park, Ill./Aspire Kids Sports Center
Hunter Moravec, Downers Grove, Ill./Elite Sports Complex
Carver Stennett, Lake Barrington, Ill./Kids in Action Gymnastics Academy
Sarah Thompson, Davis, Ill./J and J Tumbling and Trampoline Team
Morgan Vermillion, Pekin, Ill./Central Illinois Gymnastics Academy

Indiana
Zachary Ramacci, St. John, Ind./TwistStars Tumbling and Trampoline
Jaden Vales, Jeffersonville, Ind./Spark Athletics

Kentucky
Brandon Anderson, Louisville, Ky./Spark Athletics

Louisiana
Nicole Ahsinger, Lafayette, La./Trampoline and Tumbling Express
Alex Balinbin, Kenner, La./Elmwood Gymnastics Academy
Al iaksei Shostak, Lafayette, La./Trampoline and Tumbling Express
Sarah Webster, Lafayette, La./Trampoline and Tumbling Express

Maryland
Ian Castrence, Waldorf, Md./Unique Sports Academy
Tomas Minc, Chevy Chase, Md./Dynamite Gymnastics
Aliah Raga, Denton, Md./Dulles Gymnastics Academy
Jessica Stevens, Ellicott City, Md./Fairland Gymnastics
Julian Wright, Silver Spring, Md./Xtreme Acro

Michigan
Derek Therrien, Lake Orion, Mich./Gymnastics Central

Minnesota
Charlie Larson, White Bear Lake, Minn./Twin City Twisters
Rory O'Neil, Maplewood, Minn./Twin City Twisters

Missouri
Hally Piontek, Warrensburg, Mo./Kansas City Trampoline Club

North Carolina
Gracie Harder, Winston Salem, N.C./Carolina Elite Trampoline Academy
Trevor Harder, Winston Salem, N.C./Carolina Elite Trampoline Academy

New Jersey
Jeffrey Gluckstein, Atlantic Highlands, N.J./Elite Trampoline Academy
Michelle Sherman, Holmdel, N.J./Elite Trampoline Academy

Ohio
Raf Bryant, Worthington, Ohio/Integrity Athletics
Smith Light, Dublin, Ohio/Integrity Athletics
Alex Renkert, Columbus, Ohio, Integrity Athletics
Isabel Steinmetz, Batavia, Ohio, Gymnastics Central
Trinity Van Natta, Hilliard, Ohio, Integrity Athletics
Tristan Van Natta, Westerville, Ohio, Integrity Athletics

Oklahoma
Jonathon Purdum, Owasso, Okla./Airbenders

Tennessee
Savanna Cecil, Crossville, Tenn./Premier Athletics Knoxville North
Cammie Cooper, Knoxville, Tenn./Tennessee Elite Gymnastics
Kayne Johnson, Knoxville, Tenn./Tennessee Elite Gymnastics
Tia Taylor, Knoxville, Tenn./Premier Athletics Knoxville North

Texas
Hope Bravo, Allen, Texas/Eagle Gymnastics Academy
Drew Collins, McKinney, Texas/Eagle Gymnastics Academy
Dom Dumas, Lubbock, Texas/Air Extreme
Susan Gill, Carrollton, Texas/Eagle Gymnastics Academy
Krista McNary, Victoria, Texas/Victoria Gymagic
AJ Noble, Austin, Texas/Champions Westlake
Isaac Rowley, Allen, Texas/Eagle Gymnastics Academy
Olivia Simpson, Lubbock, Texas/Air Extreme
Weston Sitz, Prosper, Texas/Eagle Gymnastics Academy

Utah
Kaden Brown, Bluffdale, Utah/Wasatch Trampoline & Tumbling
Zeke Dayton, Salt Lake City, Utah/Wasatch Trampoline & Tumbling
Randy Holmes, Bluffdale, Utah/Wasatch Trampoline & Tumbling
Dylan Kline, Syracuse, Utah/Flipside Tumbling
Ashley McDonald, Lindon, Utah/Wasatch Trampoline & Tumbling
Shelby Nobuhara, Mapleton, Utah/High Altitude
Ruben Padilla, Bluffdale, Utah/Wasatch Trampoline & Tumbling

Virginia
Brandon Krzynefski, Centreville, Va./Eagle Gymnastics Academy