2021 U.S. acrobatic national championships, World Age Group competitions underway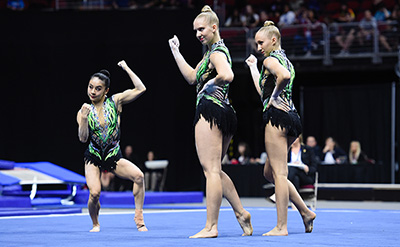 INDIANAPOLIS, June 25, 2021 – While many of the top acrobatic gymnasts in the country get set to vie for national bragging rights at the USA Gymnastics Championships this week at The Dome in St. Louis, some of their U.S. counterparts are competing on the world stage at the 2021 World Age Group competitions or preparing for the 2021 Acrobatic Gymnastics World Championships, both taking place at the Patinoire des Vernets in Geneva, Switzerland.
USA Gymnastics Championships
Domestically, the USA Gymnastics Championships elite divisions are slated for June 25-27. Friday's session will consist of the women's group (12-18) balance and women's pair (13-19) dynamic competitions at 1:30 p.m. CT. On Saturday, the women's group (12-18) dynamic and women's pair (13-19) balance sessions will begin at 6 p.m. CT. Sunday's finals will kick off at 2 p.m. CT.
FloGymnastics
will stream the full competition live.
Participating gymnasts are listed below by division.
12-18 Women's Group
Reagan Grigsby, Makayla Anderson and Taylor Smith of Empire Acrogymnastics
Emelia Eddy, Sophia Lodico and Isabelle Sarina of International Elite
Bethany Strawn, Gabriella Vathy and Jordan Gruendler of AGSA
Chloe Huynh, Lauren Nubla and Mckenzie Sheufelt of Technique
Emma Sousa, Bethany Glick and Ellie Sousa of Cal Elite
13-19 Women's Pair
Cierra McKowan and Katie Borcherding of Realis Gymnastics Academy
---
Acrobatic Gymnastics World Age Group Competitions and World Championships
Athletes representing the U.S. at the World Age Group competitions and Acro World Championships are listed below by division.
World Age Group 11-17 Division
Mixed Pair
Davis Leavitt of Las Vegas, Nev., and Vlad Studwell of Henderson, Nev./AGC Las Vegas
Women's Pair
Mia Alvarez of Riverside, Calif., and Ava Cabana of Grand Terrace, Calif./Realis Gymnastics Academy
Hadley Milnor and Victoria Notzon, both of San Antonio, Texas/Acrobatic Gymnastics of San Antonio
Women's Group
Olivia Green of Silver Spring, Md., Evelynn Plummer of Silver Spring, Md., and Aranel Prevost of Garrett Park, Md./Xtreme Acro
Nicole Powell of Bethesda, Md., Sara Rodriguez of Damascus, Md., and Elise Srsic of Westminster, Md./Xtreme Acro
World Age Group 12-19 Division
Mixed Pair
Jaylen Ivey of San Jose, Calif., and Amaya Rogers of Campbell, Calif./Aerial Tumbling and Acrogymnastics
Trent Stoker of Spring Branch, Texas, and Madison Teague of Bulverde, Texas/Acrobatic Gymnastics of San Antonio
Women's Pair
Willow Rose Noble and Sydney Padios both of Moreno Valley, Calif./Realis Gymnastics Academy
Ally Stone of Spring Brand, Texas, and Ayla Vargas of San Antonio, Texas/Acrobatic Gymnastics of San Antonio
Women's Group
Gia Calo of Annapolis, Md., Sarah Wilson of Annapolis, Md., and Grace Wright of Harwood, Md./International Elite
Aaliylah Marie Guastella of Sacramento, Calif., Meghan Gul of Granite Bay, Calif., and Katryna Oselska of Antelope, Calif./Rodina Elite Gymnastics Academy
World Age Group 13-20 Division
Mixed Pair
Anna Blough of Riverside, Calif., and Carson Breen of Redlands, Calif./Realis Gymnastics Academy
Women's Pair
Mo Arthur of Rolla, Mo., and Ariana Katsov of Owensville, Mo./Mid America Acro Tumbling
Men's Group
Ethan Chang of Columbia, Md., Sam Lacy of Columbia, Md., Cade Shields of Columbia, Md., and Dorian White of Castro Valley, Calif./Emilias Acro Gymnastics and Cheer
Women's Group
Isabel Chang of Columbia, Md., Sydney Martin of Glenwood, Md., and Maria Wooden of Derwood, Md./Emilias Acro Gymnastics and Cheer
Riley Freed of Mount Airy, Md., Jessie Kicza of Woodbine, Md., and Mariam Tutberidze of Owings Mills, Md./Emilias Acro Gymnastics and Cheer
World Championships Senior Division
Men's Pair
Angel Felix of Moreno Valley, Calif., and Braiden McDougall of Riverside, Calif./Realis Gymnastics Academy
Women's Pair
Emily Davis and Aubrey Rosilier, both of San Antonio, Texas/Acrobatic Gymnastics of San Antonio
Women's Group
Victoria Blante of Hayward, Calif., Eily Corbett of Danville, Calif., and Cassidy Cu of Castro Valley, Calif./WestCoast Training Center
Elanor Chang of Columbia, Md., Grace Vonder Haar of Columbia, Md., and Kayla Vonder Haar of Imperial, Mo./Emilias Acro Gymnastics and Cheer