USA Gymnastics announces rescheduled 2021 dates for postponed USA Gymnastics Championships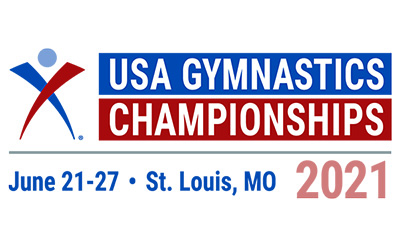 INDIANAPOLIS, July 17, 2020 – USA Gymnastics today announced that U.S. Olympic Team Trials, originally scheduled for June 25-28, 2020, at Enterprise Center in St. Louis, Mo., will be held June 24-27, 2021, at the same venue. At the event's conclusion, the full U.S. Olympic gymnastics roster for the Tokyo Olympic Games, including the men's and women's artistic gymnastic teams, will be named. The 2020 Tokyo Olympic Games are slated to begin July 23, 2021.
In conjunction with the trials, the 2021 USA Gymnastics Championships, which serves as the annual national championships for the acrobatic, rhythmic, and trampoline and tumbling disciplines, as well as the final Olympic selection event for rhythmic and trampoline in 2021, will take place June 21-27, 2021, at America's Center in St. Louis. The 2021 USA Gymnastics National Congress and Trade Show will also be staged at the nearby America's Center Convention Complex. This will mark the first time since 2009 that championships for these disciplines will be hosted with the annual National Congress and Trade Show and an artistic gymnastics premier event together in the same city.
Ticket holders who purchased tickets for the original 2020 U.S. Olympic Team Trials dates may use their tickets for the rescheduled event; alternatively, they will also have the opportunity to request a refund through the point of purchase through August 17, 2020. However, please note that this is a sold-out event, and the opportunity to buy future tickets is unlikely.
Ticket purchasers will receive an email from their point of purchase within the next 48 hours regarding refund details. Refunded tickets will be available for purchase through Ticketmaster outlets nationwide or online at stlouis2021.com.
USA Gymnastics thanks our local partners the St. Louis Sports Commission and Enterprise Center for their continued collaboration and support as events have been rescheduled and adjusted.