Medals abound on an eventful final day at 2019 USA Gymnastics Championships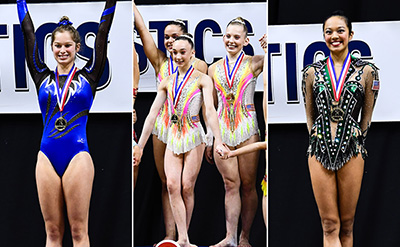 By Hayes Gardner
DES MOINES — It wasn't long ago that Jessica Stevens was an audience member — one of the hundreds of young gymnasts who would participate in the USA Gymnastics Championships each year, idolizing the athletes on the floor. The trampolinist competed as a junior elite in 2014, 2015 and 2016 and would sit in the stands, watching the likes of Nicole Ahsinger and Charlotte Drury perform as senior elites.
Stevens has now been a senior for three years, placing fourth and fifth in trampoline in 2017 and 2018. But she made the 2019 Championships one to especially remember by tallying a total score of 154.750 over the July 4th weekend.
Her total edged two trampolinists she still admires: silver-medalist Ahsinger (154.440) and bronze-medalist Drury (154.010).
"I still can't believe it. I'm in shock. I'm so happy right now," Stevens said after her narrow win.
Stevens jumped high and clean in her final routine and did just well enough to nose past Ahsinger, a 2016 Olympian, and Drury, the first American woman to take home gold in a World Cup, which she did in 2014.
"I still look up to them so much," Stevens said. "I remember when I was younger and a junior elite and watching Charlotte and Nicole, and wanting to be just like them, and now that I compete against them, it's even better. It's great getting to compete alongside them internationally and domestically, because they're some of my closest friends."
The gold souvenir that Stevens will take home with her to Maryland was a fitting gift; she turned 19 on Friday.
"It was a great birthday present," she said.
That was only one of many gold medals that were won on Saturday at the Wells Fargo Arena in Des Moines. On the men's side of the trampoline, Jeffrey Gluckstein won another gold medal — his sixth ever in the event — with a score of 167.080, ahead of second-place Aliaksei Shostak (164.105). Gluckstein left no doubt. He entered Saturday's final in the lead and nailed his third routine with a weekend-best 59.090.
Ruben Padilla entered that final second place in trampoline but faltered a bit on his final routine. Fewer than 30 minutes later, however, his spirits were more than lifted when he was not only announced as the double-mini trampoline gold medalist, but also as the discipline's Athlete of the Year and Sportsperson of the Year.
"It's a lot of mixed emotions, I'll say that," he said with a smile.
The 18-year old put on a dominant show in the double-mini, totaling a four-pass score of 149.700. Noah Orr took second with a 143.700 and Weston Sitz was third (139.100).
Padilla, who has been living with a host family in Utah for the past year and training with Wasatch Trampoline and Tumbling, was pleased with the weekend.
"Overall, I feel like I did really well," he said. "I wasn't expecting a whole lot coming in."
The women's double-mini results were significantly closer, as Kayttie Nakamura won the event in her first year as a senior elite. Her score of 138.500 narrowly topped Sydney Senter's 138.200. Both Senter, also a first year senior, and Nakamura train at Merino Trampoline Gymnastics Academy in Hawaii. Kiley Lockett took bronze with a 138.100.
On the tumbling floor, Eve Doudican took gold with a score of 138.100, while Eliza Floisand (132.200) and Hope Bravo (129.800) placed second and third. Kaden Brown ran away with the men's gold, putting together a masterful performance and a score of 151.600. Patrick Lyell (136.800) and Haydn Fitzgerald (135.900) also medaled.
Fans in Des Moines were also treated to some grand performances in the acrobatics discipline. The senior elite women's group of Reagan Dubbels, Emily Petty and Abby Rosilier took gold with a string of strong showings.
"It just feels really good to know that all of our hard work has paid off, and we're just going to keep working hard," Petty said. "It's just really rewarding."
Between their balanced, dynamic and combined routines, they tallied a score of 82.450, while the group of Elanor Chang, Grace Vonder Haar and Kayla Vonder Haar took silver (81.950).
Other acrobatic gold medalists were Sean Obley and Aisley Boynton (mixed pair), Angel Felix and Braiden McDougall (men's pair) and Victoria Blante and Morgan Sweeney (women's pair).
Last, but most certainly not least, an all-around rhythmic champion was also crowned Saturday.
Laura Zeng, a 2016 Olympian, put on a complete performance to win her fifth-straight gold in the event. She scored a 155.850 — including a striking 21.050 in the hoop competition — to place first, yet again. Evita Griskenas took silver in the all-around for the third straight year, with a score of 154.100. Camilla Feeley received bronze, scoring 147.400.
Saturday's events wrapped up what has been an eventful week, with a plethora of stunning performances and, no doubt, plenty of young gymnasts watching their idols from the stands.