Acro's Felix, McDougall exude energy, fun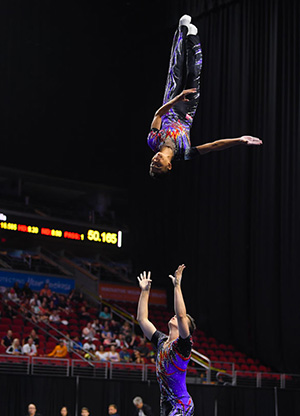 By Hayes Gardner
DES MOINES, Iowa, July 5, 2019 – When Angel Felix and Braiden McDougall take to the carpet, fans know what to expect from the longtime acrobatic gymnastics duo: fun, and lots of it.
The two exuded confidence and energy as they wowed the crowd at Wells Fargo Arena Thursday night, scoring a 27.430 for their dynamic routine. They started with their hands on their chin, in a serious "thinking" pose, but when the music started, so did the fun. Smooth dancing and seemingly effortless skills highlighted their confident, in-sync performance.
Their fun routine is very much by design. Felix, 14, and McDougall, 17, always aim to energize the crowd, and the entertaining routine matches their upbeat personalities.
"That's kind of what we're known for," McDougall said. "We've always had loud routines that are really fun and energetic, and they get the crowd going."
Their choreographer, former World champion Arthur Davis, designs much of their routine, but the pair also adds their own flavor. When they were goofing off in the gym once, the two played around with a popular fist-pumping, leg-kicking dance move called the 'shoot dance,' and Davis loved it. It became a part of their routine.
When asked about it, both Felix and McDougall immediately smiled.
"That was us," Felix said of the crowd-pleasing addition.
The duo is incredibly comfortable with one another, and that stems from years of partnership. They have been partners for six years, and they both cited trust as a key to their success. They live 20 minutes from each other in Southern California and train together about 32 hours a week. They're friends out of the gym, too.
"We both understand each other pretty well, and we both get along really good," Felix said.
In their routine, Felix, the top, and McDougall, the base, perform as one seamless unit, and they are unequivocally on the same page throughout their display of difficult skills.
"Sometimes, we're the same 'head.' We'll say the same thing at the same time," McDougall said.
The pair is continuing to fine-tune their routines and add new skills as they prepare for the World Championships. McDougall said they're seeking "that next level."
"We're almost there," he said. "We just need to get our skills a little more clean, get everything a little higher, make everything a little bit better, and then we'll be up to par with the other international men's pairs."
The key to improvement, aside from the ongoing trust they have in one another, is simple repetition.
"You have to do it over and over, so many times you have to lose count," McDougall said.
That hard work, paired with their creative routine, is what makes them so good at what they do. Their personalities fill the arena as they perform, and after their lively routine on Thursday, several supporters hugged the out-of-breath duo after yet another fun spectacle.
Afterwards, when asked to describe Felix, McDougall said, "He's crazy — but in a good way." Felix, in turn, explained that McDougall is very "understanding" and "a really good person." He also added one more descriptor, one that would come as no surprise to anyone who saw their animated routine: "He's really fun, too."