2012 Olympian returns to competition with new name, fresh perspective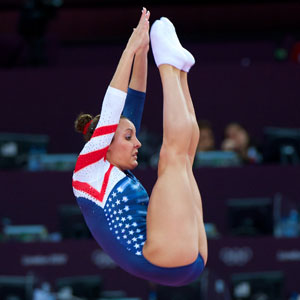 By Tim Nash
Savannah Thompson is back.
The last time we saw her compete in the USA was five years ago at the U.S. Trampoline and Tumbling Championships in San Jose, Calif. That was when she was Savannah Vinsant and a U.S. Olympian for the 2012 Olympic Games in London. It was before she decided to retire, before she got married and before she opened a gymnastics facility outside of Lafayette La,
"I haven't exactly been sitting around," said Thompson. "I've been juggling being a business owner and an athlete. I'm also married and have a nine-year-old stepson."
So what brought her back? It was a perfect storm of missing the competitive aspect of her sport and her new-found love of teaching kids. Her gym, Hangtime TNT, has roughly 500 students, four of whom are with her in Greensboro, N.C., this week competing in the USA Gymnastics Championships.
"I figure travelling with the kids in my Gymnastics Academy, what better way to inspire them than to have their coach out there competing with them," she said. "The hardest part has been reminding myself that I was back in training and I couldn't be lazy."
Thompson left the sport five years ago, shortly after finishing sixth in London. She says she needed to figure out who she was and what she wanted to do.
"I really enjoyed my time off," she said. "I was able to find myself away from athletics, and I finished school. To be able to find who I was, I really needed that.
"After the Olympics, you are on such a high. Then you have to find out who you are again as a person. It was time to take a step back."
When Thompson found the answers to her questions, it turns out she was many things – wife, mother, business owner, teacher, coach.
Chris, her husband of four years, works in the oil fields. He helps with the business when he can.
"He has a full-time job, but he works rotation shifts and he is home for almost a month at a time," said Thompson. "When he is home, he works in the business. We make a great team. He handles the things I don't see or do very well. I like to say I am on the floor as the coach and he is the manager."
Her time away from competitive gymnastics also revealed a love for coaching.
"It's a big passion of mine," she said. "I think being an athlete for so long, I have that first-hand experience and know exactly what they might be feeling or thinking. I feel I can shed a little bit more light.
"I try to help them understand they are going to have good days, they are going to have bad days and they are going to have really awful days. It's all part of the process. The victory is moving forward."
As a coach, Thompson discovered that teaching isn't easy. But she quickly adapted.
"Naturally, I expected the student to understand exactly what I was saying and pick it up immediately," she said. "However, I remembered what I was like at their age and realized that it's a process. Sometimes wording it just a little bit differently helps."
After she decided to move forward with her competitive career, she competed in the 2018 Elite Challenge in Colorado Springs, where she finished third.
"I was very nervous, probably more nervous than any other event I've ever been to," she said. "I was way more nervous than I was at the Olympics. I just needed to learn to compete again, mentally and emotionally. I do know the further along on the journey I go, the more competitive I will be. But I'm only four months into this new journey."
There may be a limit to her competitiveness now, though. The thought of competing with one of her students intrigues her.
"I would be very honored if one of my students surpassed me," she said. "That would be really cool."