Zeng shows toughness in third senior national title win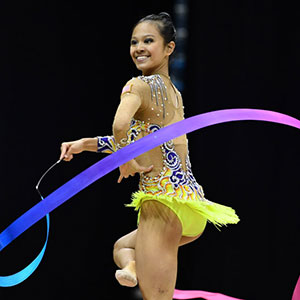 By Alex Coffey
Laura Zeng floats across the mat at the BMO Harris Center in Milwaukee as if she were a prima ballerina on stage at the Metropolitan Opera.
As the Game of Thrones-theme song thunders through the loudspeakers in the arena, there's a hint of triumph in the way she's carrying herself. Halfway through her clubs routine, the crowd catches on to her magnetic passion for the routine, allowing her to feed off of the energy of their steady clapping.
For Zeng, whose passion comes beaming through her performances no matter what her apparatus may be, this type of response is nothing new.
However, performing mere minutes after suffering a bloody-nose, was.
"When I was in the back practicing, one of my tosses came and hit me in the nose, and I started bleeding profusely," said Zeng. "I was out for about 30 minutes. We weren't sure if I was going to be able to compete. But with the help of our great PTs here, I was able to pull through."
The backstory leading up to her rhythmic all-around win Saturday night at the 2017 USA Gymnastics only makes her victory all-the-more impressive. But Zeng, who seems to be wise beyond her 17 years, wasn't about to forgo what would be her third straight national title for a last-minute injury.
"It was just adding to my experience," she said matter-of-factly. "I was hyperventilating a bit, wondering if I broke my nose. But luckily it wasn't that bad and the PTs held ice to my head, which helped. I'm just happy I was able to pull through and can't wait to get back in the gym and improve."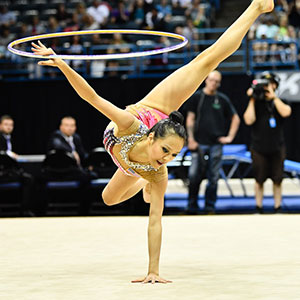 As is typical of Olympic athletes, the Libertyville, Ill. native doesn't simply have talent, but also an innate ability to focus. It shows in the already extensive resume she's built after only two years of competing on the senior National Team: First American to win medals at the World Cup series, an 11th place finish at the Olympics and an 8th place finish at Worlds, both records for American rhythmic gymnasts, and three straight all-around titles at the USA Gymnastics Championships, to compliment a long list of National and International first-place finishes.
It's easy to get lost in Zeng's career highlights, on paper. But it's her electric personality on the floor and professionalism off it that make those highlights come to life – providing a small glimpse into why she she's had so much success in such a small amount of time.
"She is a really strong athlete mentally," said rhythmic gymnastics commentator Rebecca Sereda, who won three-straight national titles from 2012-14. "She's really a fighter. She also does a great job of using her artistry to her advantage. But she's still super young for an athlete in general, so she has so much time to grow."
Wasting no time, Zeng has now shifted her focus to the 2017 World Games, where she'll represent Team USA against the best-of-the-best in an extremely competitive discipline. But knowing her passion for the sport, and her unwavering preparedness, Zeng will be ready to go when the time comes.
"I'm immensely excited for World Games," she said. "I have a little bit of a break then it's off to Russia to train and then to Poland to compete. It's just another place to represent the USA. It's a great opportunity to show what our compositions are made of and to continue to develop. I'm just excited for these next steps."