USA Gymnastics Championships continue in Milwaukee
By Alex Coffey
No amount of sparkle on their leotards could've outshone the beaming smiles on the faces of Acrobatic Senior Women's Group Sophie Gruszka, Morgan Sweeney and Amanda Waterson as they walked off the mat at Milwaukee's BMO Harris Bradley Center after day two of the Elite Competition tonight. After a strong showing on Thursday when the WCTC group earned a 29.223 to lead the Senior Elite Women's Group standings, they reinforced that dominance on Friday by earning a score of 27.503 for a total of 56.727 to stay in first place heading into tomorrow's finals.
"The first skill was the most nerve-wracking but after that it was okay," said top Sweeney. "The dance was really fun because I really like this routine and getting into the music. We are a little nervous, of course, for tomorrow's finals, but we're also confident because we're happy with our last two performances."
Just as pleased were the rhythmic gymnasts representing North Shore Rhythmic Gymnastics Center tonight, who ended up taking home hardware in the ball, ribbon, clubs and hoops. Evita Griskenas, riding a high from an impressive performance on night one, came out on top, earning first place berths in both the ribbon, with a 16.267, as well as in the hoop event, with a 17.700.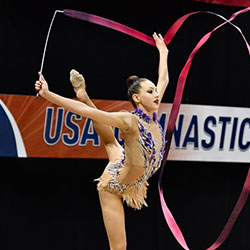 "Evita Griskenas has really matured throughout the years," said commentator Rebecca Sereda. "She moves super confidently across the floor. She does everything precise, especially with her difficulties, they are so clean, so exact."
Camilla Feeley, also showed that she's coming into her own, after taking the national title in ball with a 17.534, as Griskenas followed with 17.400 and Laura Zeng placed third with 17.167.
"I think tonight in the beginning I was a little bit timid, and will come back stronger tomorrow," said Feeley. "The crowd was great tonight. We're just excited to get back out there tomorrow."
2016 Olympian Zeng took home the gold in the clubs event, as Lili Mizuno (also of North Shore) placed second and Griskenas took third. The scores were 18.084, 16.583 and 16.367, respectively.
But Rhythmic wasn't the only discipline that showed a true variety of talent tonight. The competition continues to be fierce between the two Senior Mixed Pairs: reigning National Champions Axel Osborne and Tiffani Williams, and Aisley Boynton and Maxim Sedochenkoff, both from Realis Gymnastics. After a dominant night one, Boynton and Sedochenkoff had another strong showing by keeping their lead with a score of 55.423, but aren't getting overly excited just yet.
"It could have been better," Maxim said after their event. "There were a couple of things that we could have been stronger on. But it's okay, and tomorrow I'm sure we'll do good."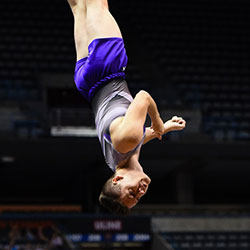 In the tumbling & trampoline discipline, Alex Renkert and Austin Nacey continued their battle over a spot at the 2017 World Games, but this time for the double-mini event. Renkert narrowly edged out Nacey's 72.800 with a 75.500, before the finals tomorrow. Matthew Hawkins took third with 72.100.
"My first pass was a little hiccup but I stuck it which was good," Nacey said. "My second pass went really well. I'm definitely a little nervous for tumbling tomorrow, I know I need to land two solid passes and should be okay. On double mini, I'm just going to try and do my best. But tumbling is my favorite, so I'm going to try and focus on that."
On women's individual trampoline, 2016 Olympian Nicole Ahsinger displayed two solid showings, earning her a first place finish with a score of 100.275. Clare Johnson of MTGA followed with a 97.045 and Hally Plontek placed a close third with 97.010.
After a night of intense competition, Evita Griskenas summed up the sentiment for tomorrow's competition best with her final quote of the night: "New day, new challenge."