Three 2016 Olympians return to the USA Gymnastics Championships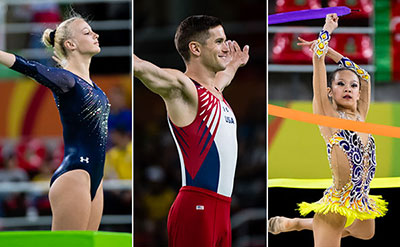 By Alex Coffey
U.S. women's trampolinist Nicole Ahsinger has competed in the USA Gymnastics Championships for the past four years, but she'll be the first to admit that 2016 will be a tough Nationals to top.
"I was sitting up in the stands with my mom right after I competed finals," said Ahsinger. "Dmitri, my coach, just said 'Enjoy the ride, Nicole. You are the Rio Olympian.' And my mom immediately burst into tears."
Nevertheless, after experiencing what it's like to compete on the world's biggest stage, the 19-year-old San Diego native is excited to be stateside again – and to be in front of a crowd that is well-versed in her sport.
"Rio was a totally different type of competition," she said. "During the USA Gymnastics Championships, people in the stands know everything about the sport and know when to cheer. In Rio, the crowd was already clapping by the time I got on the trampoline. It kind of got me out of the zone a little bit. Most of the people that sit in here are either parents or loved ones of the people competing. Most people understand when to clap when to cheer."
Ahsinger, rhythmic gymnast Laura Zeng and men's trampolinist Logan Dooley are the three 2016 Olympians competing at this year's USA Gymnastics Championships in Milwaukee, Wis. They are joined by 1,900 of the country's top gymnasts in acrobatic and rhythmic gymnastics, as well as in trampoline and tumbling. The event began on June 27 and will continue through July 2 at the BMO Harris Bradley Center and Wisconsin Center.
The junior and senior elite athletes will not only be vying for national titles, but also for berths on the U.S. National Teams and spots at the 2017 World Championships and 2017 World Games, depending on their discipline. For the synchronized trampolinists, tumbling and double-mini athletes, making the 2017 World Games is their equivalent of making the Olympics, since their discipline has yet to be included at that level.
"These National Championships are especially important for me, and I'm definitely really nervous because there are World Games points at stake," said U.S. men's tumbling and double mini-trampolinist Austin Nacey. "Tumbling and double-mini aren't in the Olympics, so there's a lot of pressure. I've been doing this for 15 years now; I tried out for World Games in 2013 but didn't make it that time. This is probably my last year competing. I'm just trying to hit all my passes as best as I can so I can get a spot to World Games."
Also looking to qualify for the 2017 World Games are acrobatic gymnasts Axel Osborne and Tiffani Williams, who find themselves in a similar position to Nacey, as their discipline is a non-Olympic event. The mixed pair also intends to defend their national championship – which they've won for the past two years.
"We feel confident, we've been training really well and we've had a successful season," said Osborne. "This will hopefully set us up for our main goal, which is qualifying for the World Games. They are basically the Olympics of non-Olympic events, and there is only one spot for mixed pair."
On the opposite end of that spectrum is Laura Zeng, who has already secured a spot at the 2017 World Games. Zeng, who is Team USA's most decorated rhythmic gymnast, is looking to win her third consecutive all-around national title this year in Milwaukee.
"Nationals is always exciting, especially competing in front of a home crowd. But I'm an older gymnast now so there are a lot more expectations heading into this competition," said Zeng. "I'm just learning to let that build me up rather than take me down. I'm trying to move forward, not back."
While Zeng's historic run is just beginning, fellow 2016 Olympian Logan Dooley has earned his greatest accolades towards the end of his career – at the age of 29.
"I've always said if I make the Olympics I wanted to do one more year after that," said Dooley, who specializes in trampoline. "It's been an adjustment year, I want to see if it can redevelop into a passion for another four years or if it's time to hang up the tights."
From seasoned veterans to new faces on the block, these National Championships hold a unique significance for everyone – but once they're on the floor, it's anyone's game.
"We will see what happens," Dooley added. "You go up you go down – that's the sport of trampoline."