Nacey moves closer to World Games berth on first day of USA Gymnastics Championships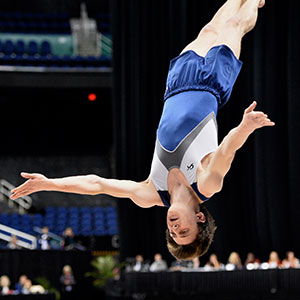 By Alex Coffey
A lot was at stake for Austin Nacey heading into the first senior elite session tonight at the 2017 USA Gymnastics Championships. Nacey, who specializes in tumbling and double-mini, has been working towards securing a spot in the World Games for the last 15 years – and sees Nationals as his last hope for achieving his goal.
"I'm definitely nervous. Tumbling and double-mini aren't in the Olympics," he said on Wednesday. "So for me the World Games are the Olympics. I tried out for World Games in 2013 but didn't make it that time. This is probably my last year competing. I'm just going to try and hit all my passes so I can get a spot."
Luckily, Nacey knew exactly where to go to calm his nerves: home.
"I literally drove home to Braidwood, Illinois," he said. "It was two hours south of here. I saw my dog, came back up and felt super chill today."
The impact of the visit showed in his performance tonight, as he earned a first place finish in the men's individual tumbling event with a 73.100. Alex Renkert took second place with 69.500 while Brandon Krzynefski placed third with a 68.200.
"I hit my passes really well, and I'm excited to be finished," Nacey said. "All the stress is finally off my shoulders. I'm less nervous about double-mini, tumbling is my favorite so it really gets me pumped."
In the women's rhythmic ball and hoop finals, the North Shore Gymnastics saw a sweep of the top-three spots – but with some unexpected results. In the senior Hoop Event Final, Evita Griskenas took the title with a 17.700, while 2016 Olympian Laura Zeng followed right behind her with a 17.667. Camilla Feeley, who was the 2016 Olympic Alternate, placed third with 17.434.
"The polish of the athletes really does develop with age and experience," said commentator Rebecca Sereda. "We saw Laura Zeng rise to the occasion in 2016. Now her fellow North Shore gymnasts have some good examples to follow. They push each other to succeed more since there is that internal competition in the gym."
In the senior Ball Event Final, Feeley was crowned National Champion with 17.534, Griskenas placed second with 17.400 and Zeng came in an uncharacteristic third, with 17.167. The three will continue to compete tomorrow in the Ribbon and Clubs Event Finals. Zeng, who is the most decorated U.S. rhythmic gymnast of all time, was the clear favorite heading into tonight, but remains confident heading into tomorrow's competition.
"It was not bad, it's the first day of competition and there are always some first day jitters," Zeng said. "I think I sorted them out, and I'll be ready to go even harder tomorrow. I'm going to focus on clean routines and on consistent elements."
The upsets in tonight's rhythmic events were followed by another across the mat in the Acrobatic Senior Elite Mixed Pair competition, as the reigning national champions Axel Osborne and Tiffani Williams finished behind fellow Realis Gymnastics pair Aisley Boynton and Maxim Sedochenkoff. The latter earned a score of 28.197 while Osborne and Williams took home a 26.640.
"It went pretty well, but we had a mistake on our last kill, which is something really new for us," Osborne said. "We just need to make sure it's more clean for the rest of the week and just want to do better every day. We just want to hit our routine, we just want to do it like we do it every day in the gym."
In the Men's Individual Trampoline event, Jeffrey Gluckstein made his brother – 2016 Olympian Steven Gluckstein – proud, with his pinpoint control on a very difficult routine. Gluckstein took first with a 110.830, Stewart Pritchard earned second place with 105.580, and Paul Brestcher took third with a 104.100.
"I was super clean out there, I did everything I needed to do," Gluckstein said. "I was a little bit lower. But other than that I'm proud of myself, I went out there and gave everything that I got."
The Gluckstein-name has become a dynasty of sorts in Men's Individual Trampoline. Either Steven or Jeffrey has won a National title in the discipline since 2009 – and Jeffrey plans on keeping the family legacy alive as he looks towards Saturday's final. But after his success tonight, he plans on taking to tomorrow's training day to relax and enjoy what he considers to be a truly special event for his discipline.
"The atmosphere out there was great. I love having competitions like this, usually it's just trampoline out there — we're isolated. But when we get to compete alongside rhythmic and acro, it really livens the spirit. It pulls all the sports together as a family."