Determined Gluckstein seeks fourth U.S. title this week in Milwaukee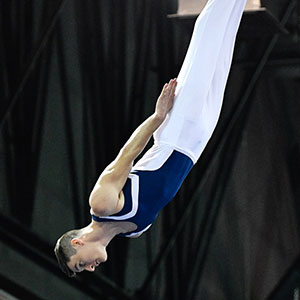 By Alex Coffey
Jeffrey Gluckstein has seen a lot over a competitive career in trampoline and tumbling that stretches to include more than 11 years of national-level meets. He's competed in four World Championships, has won three national titles and secured a spot for Team USA in men's trampoline in the 2016 Olympic Games in Rio de Janeiro. But often times, how an athlete handles adversity can be more transformative than his greatest accomplishment.
For Gluckstein, that adversity came a little over a year ago at the 2016 USA Gymnastics National Championships in Providence, R.I.
"At those Nationals, I had a weird out-of-the-blue neck injury," Gluckstein said. "It was just bad luck and bad timing. Nothing could have prepared me for it. But I manned up, got up there and did my compulsory routine. I hit the frame of the trampoline, so I was terminated."
Up until his fall, Gluckstein had been checking off all the boxes necessary to earn himself a spot on the Olympic team. He was coming off of a second-place finish at the 2016 Elite Challenge in Colorado Springs, Colo., the second of what would be three Olympic qualifiers that year. And he had had the highest placement for the U.S. at the 2016 Olympic Test Event, earning the USA a spot at the Games.
Unconcerned with his role in getting his team to gymnastics' biggest stage, Gluckstein never felt he was owed anything. He would have to earn his place, just like everyone else – and he was fine with that. But once his neck injury struck, that spot was gone.
"Just because I won that spot, [it] didn't mean it was mine," said Gluckstein. "We still had to go through three Olympic trials. After I hit the trampoline in the third trial, I still got out there and did my optional routine. But I was devastated."
What was once a feeling of devastation has now morphed into a self-discovery, of sorts. Gluckstein is not only more motivated than ever before, but also acutely aware that gymnastics is just as much a mental sport as a physical one.
"It was unfortunate, but it was definitely a learning experience," he said. "Height (in bouncing) and difficulty are definitely my strengths. My weakness is being distracted. Sometimes when I'm doing my routine, I'll start talking to myself negatively, when I should be focusing on what I have to do. I'm just focusing on saying positive things and keeping my cool."
It's safe to say that whatever Gluckstein has been doing is working. He's won the first two competitions of the year – the Winter Classic and the Elite Challenge – and has earned a spot in the 2017 World Games after winning the synchronized trampoline event with his partner Aliaksei Shostak earlier this week. But this seems to be only the beginning for the 23-year-old.
"My goal for this competition is to win," Gluckstein said. "I'm still going to ride the high from the Winter Classic and Elite Challenge, but I'm not going to stop here. I'm not looking nationally, I want international, I want to be at the podium at World Cups, I want to be in the Finals at World Championships. This is kind of like a test to see who I am as a competitor and get out there in front of the judges, feel those nerves and see where I am at mentally. Because you can be super physically ready but if your mind is not in the right spot it's not going to work out for you."
Now as Gluckstein enters the 2017 USA Gymnastics Championships, he finds himself not just in tune with his mental hurdles, but also ready to face them.
"Iron sharpens iron," he added. "But it's the grind the sharpens the axe. And I'm coming out swinging here."