Sky Writing: Drury hopes to keep Rio flight on track through words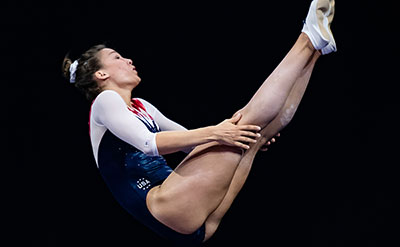 By Nick McCarvel

Charlotte Drury does a lot of writing. (A lot, we promise. We'll get to that later.) But perhaps the most poignant thing she's written so far in 2016 was just three words, bashed out on Twitter, approximately eight characters long: "I did it."

What Drury "did" was secured the U.S. a trampoline berth at the Olympic Test Event in Rio in mid April, overcoming nerves and a near-disastrous compulsory routine to earn the U.S. its spot.

"I got out there and I thought, 'Oh my gosh, this is the Olympic arena, and I have a job to do,'" she recalls. "I really felt the nerves and the pressure."

Yet Drury regrouped when she needed to, even as a power outage delayed her optional routine and her score – the one she was avoiding looking at – flashed (literally) before her eyes.

"I just walked up for my optional routine and didn't have any room for fear anymore," says Drury, 19. "My good enough was good enough. I saw the rankings and I thought, 'Thank god, I did it!'"

She shared as much on Twitter, but the Laguna Niguel, Calif.-based Drury doesn't put most of her written musings out in public. Outside of the gym she is a busy scribe, keeping a running "Notes" document on her iPhone (the same note, dating all the way back to 2012), a training journal and regular, personal journal.

"I write down my thoughts because it helps me focus," she says. "It helps me get a handle on what I'm feeling. It seems a lot simpler when it's on paper."

It may just only be coincidence that that iPhone Note, which takes a fair amount of thumb scrolling to get through, started just after the 2012 London Games. In Providence this week, Drury will attempt to fill that spot she secured at the Test Event for Rio. She is favored among the U.S. women.

"I'm taking Providence as another competition," Drury says when asked about her expectations. "It's another chance for me to do my thing. It's the last Trial, and it's the most important… you have to hit it. It's not possible for the committee to just select someone, so I'm just trying to approach it from a very strong standpoint. I have competed 1,000 times this year, so I'm ready."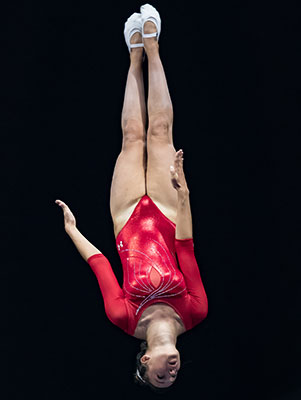 One thousand is not an exact number, though Drury has been on the road – and on the trampoline – often in 2016. In early May, she went to China for the first time to compete in the Shanghai Trampoline World Cup. After a strong compulsory routine, her knees buckled in the optional. She finished last.

"As a competition, for me, I viewed it as a learning experience," she says. "I learned how to handle being tired at an event and move forward. I'm happy with my compulsory routine and that's what I need to take from it and just go. Keep going."

Drury has bumped up her difficulty to 15.0 in the optional routine, something only a handful of athletes try in the world.

"It's the highest difficulty out there and I'm really excited about that," she says. "I'm really just taking the opportunity this year and I want to put out my best. My best right now is the 15.0 and I want to jump high and do it clean."

At the 2015 World Championships, Drury missed the finals by three spots, finishing 11th in the semis. She has aspirations to go higher – literally – in Rio should she qualify.

"If I put it all together, I'm not someone to be forgotten," she adds. "I am someone who is pretty good. I want to prove myself to the judges."

Proving yourself requires plenty of mental strength, and for Drury, that comes more and more from her documenting of feelings, frustrations, hopes and everything in between.

"I like to keep my journals. Training can consume my life. I want to stay positive. I don't try to dwell on the negatives. It's hard to have a separate life."

But what is the thrust of what she's doing? What are the phrases that keep her going?

"I wrote this one down yesterday when I was on the plane," she says upon her return from Shanghai. "It says, 'All I want is to look back and be proud of my journey.' … I think that's a good one."

Drury says the writing helps her focus on the little things that keep her going, and remind her that trampoline is a sport of the littlest, tiniest details that can make the biggest differences.

"The difference from first to second place can be .01. That can be stretching out taller on one skill, keeping your legs together, pointing your toes. That can separate the great from the good," she says. "You go into the gym everyday trying to close that gap. At the end of the day, I just really like jumping up and down."

Which is a good – no, great – thing for a trampolinist to like, no matter how you write it.