Celebrating their brotherhood, 1996 tumbling champs reunite in Providence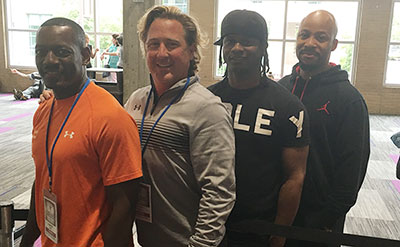 By Nick McCarvel

PROVIDENCE – Twenty years after they captured Team USA's most recent World Championship gold medal on the tumbling scene, the men of the 1996 team were back together – for the first time.

With the USA Gymnastics Championships in the Northeast for the first time, Rayshine Harris, Roger Walker, Brad Davis and Rashaan Sampson decided it was about time to meet up again.

"Twenty years later, it all came together," said a smiling Sampson.

Daniel Aldea, a member of the 1994 gold medal winning was invited to join, as well.

"We are reminiscing," Walker said, laughing. "A lot."

The 1990s was a time when the U.S. men were the best of the best on the international scene: Their gold in 1996 was part of a slew of medals, including team silver in 1990, gold in 1992 and 1994, and silver again in 1998. Harris and Sampson were a part of the 1994 team along with Aldea, as well.

"The U.S. men's tumbling team in the 1990s was dominant," said Davis.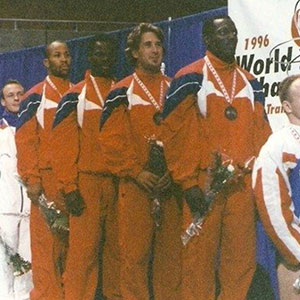 None of the men have gone far from the sport since, with Walker, Davis and Harris working as full-time coaches, Walker and Davis with competitors in Providence this weekend. Sampson now works for the Department of Justice and Aldea is an accountant.

In the 1980s, they were inner-city kids in Newark, N.J., who were "tumbling in the streets," they said. But after being pulled into Dave Green's Flip City Gymnastics program, they became world-class athletes and found success beyond the gym thereafter.

"There was a group before us that won world medals, as well," said Walker. "There was a long history with inner-city kids doing well in tumbling."

Their trip to Providence has proved one thing to them: Tumbling has changed – a lot.

"With trampoline going to the Olympics, people started to gravitate towards it more," Walker said.

"Bottom line, we were all tumblers," added Davis. "With the Olympics, things flip-flopped a little… trampoline got bigger."

The banter was in full swing, however, the men having stayed in touch with one another these 20 years even though they haven't all gotten together at once. They remembered attending the closing ceremony of the Atlanta Olympics together before heading to their World Championships in Vancouver.

Coach Green, who the men lovingly call "stealth," was in attendance in Providence, as well.

"These are my brothers," Rogers said. "I know all their children from the time they were born."