Tickets for 2016 USA Gymnastics Championships are on sale now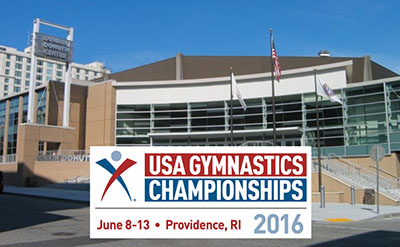 INDIANAPOLIS, April 13, 2016 – Tickets for the 2016 USA Gymnastics Championships, the national championships for acrobatic gymnastics, rhythmic gymnastics and trampoline, are on sale now. Scheduled for June 8-13 at the Rhode Island Convention Center and Dunkin' Donuts Center in Providence, R.I., the six-day competition includes both Junior Olympic and elite levels and is one of the national championships held annually by USA Gymnastics. The 2016 USA Gymnastics Championships is also the Olympic selection event for rhythmic gymnastics and men's and women's trampoline for the 2016 Olympic Games in Rio de Janeiro, Brazil.


Evening session tickets at 6 p.m. at the Dunkin' Donuts Center are: $25, June 10-11; and $30, June 12. The all-session pass, which grants access to all sessions at both venues, is $80. Tickets may be purchased at the Dunkin' Donuts Center Box Office, ticketmaster.com, all Ticketmaster outlets, or by phone at 1-800-745-3000. For the events at the Rhode Island Convention Center, a $30, single-day pass will be available onsite on competition days, and on June 10-12, the all-day pass also includes access to the junior elite sessions at the Dunkin' Donuts Center. For special pricing for gymnastics clubs, contact Aimee Sickmeier with USA Gymnastics at [email protected].


Junior and senior elites are scheduled to compete June 10-12, with Junior Olympic sessions running all five days.


For the junior and senior elite levels for each discipline, the athletes are vying for national titles. Performances will determine berths on the junior and senior U.S. National Teams for rhythmic gymnastics and trampoline and tumbling. The Junior Olympic division has several different levels, and national titles will be awarded for each level and age group for each discipline. The Junior Olympic levels for each of the disciplines are: acrobatic gymnastics – Levels 6-10; rhythmic gymnastics – Levels 7-8; and trampoline and tumbling – Levels 8-10.


Performances at the USA Gymnastics Championships will determine which athletes will represent the United States in rhythmic gymnastics and men's and women's trampoline at the 2016 Olympic Games, pending approval by the United States Olympic Committee.


The USA Gymnastics Championships was first held in 2014 at the KFC Yum! Center and the Kentucky International Convention Center in Louisville, Ky., and in 2015 at the Greensboro (N.C.) Coliseum Complex.


The local partners for the event are the Rhode Island Sports Commission and the Rhode Island Convention Center Authority.


Acrobatic gymnastics combines the beauty of dance with the strength and agility of acrobatics. Routines are choreographed to music and consist of dance, tumbling, and partner skills. At the elite level, each pair or group performs a balance, dynamic and combined routine. Pyramids and partner holds characterize the balance routine, while synchronized tumbling and intricate flight elements define the dynamic exercise. An acrobatic gymnastics pair consists of a base and a top. A women's group is comprised of three athletes – a base, middle and top partner – while a men's group has four athletes, a base, two middle partners and one top partner.


Rhythmic gymnastics is characterized by grace, beauty and elegance combined with dance and acrobatic elements, while working with ribbons, balls, hoops, ropes and clubs in a choreographed routine to music. The choreography must cover the entire floor and contain a balance of jumps, leaps, pivots, balances and flexibility movements. Only four of the apparatus are competed each quad, and the four for 2016 are hoop, ball, clubs and ribbon. Each movement involves a high degree of athletic skill. Physical abilities needed by a rhythmic gymnast include strength, power, flexibility, agility, dexterity, endurance and hand-eye coordination.


Trampoline events involve athletes using trampolines that can propel them up to 30 feet in the air, during which they can perform double and triple twisting somersaults. Tumbling utilizes elevated rod-floor runways that enable athletes to jump at heights more than 10 feet and execute a variety of acrobatic maneuvers. For the double-mini competition, the athlete makes a short run, leaps onto a small two-level trampoline, performs an aerial maneuver and dismounts onto a landing mat. Trampoline was added to the Olympic Games in 2000, and at the 2012 Olympic Games in London, the USA had its first athlete in history advance to the finals.


Background information
Rhode Island Sports Commission. The Rhode Island Sports Commission is a division of the Providence Warwick Convention & Visitors Bureau whose mission is to enrich the Rhode Island economy and community through the attraction, promotion and development of sporting events and associated meetings. For more information, visit GoSportsRI.com.

Rhode Island Convention Center Authority. Located in the heart of downtown Providence, the Rhode Island Convention Center Authority operates the Rhode Island Convention & Entertainment Complex, which includes the Rhode Island Convention Center (RICC), two parking garages, Dunkin' Donuts Center (DDC), and Veterans Memorial Auditorium (The Vets). The Authority, governed by an eleven-member board of commissioners, works with several marketing partners to book its facilities, including SMG, which manages the DDC and RICC, Professional Facilities Management (PFM), which manages The Vets, and the Providence Warwick Convention & Visitors Bureau (PWCVB).