Laura Zeng wins senior ribbon and clubs titles at USA Gymnastics Championships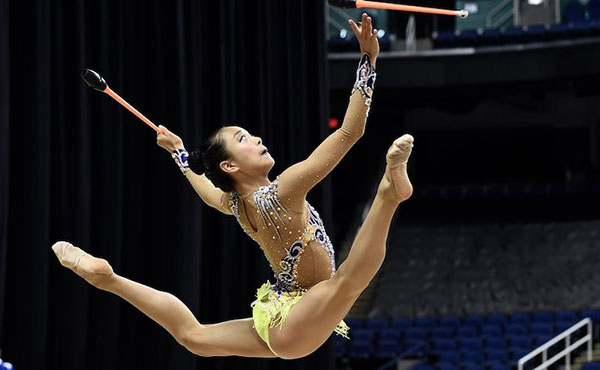 GREENSBORO, N.C., June 26, 2015 – Laura Zeng of Libertyville, Ill./North Shore Rhythmic Gymnastics Center took both the senior ribbon and clubs titles at the 2015 USA Gymnastics Championships at the Greensboro (N.C.) Coliseum Complex. Elite competition wraps up with the finals on Saturday evening. The USA Gymnastics Championships conclude on Sunday with the final day of Junior Olympic competition.
Zeng took top honors for ribbon with a score of 16.600. She won the clubs title, posting a 17.450. The top eight gymnasts advance to the all-around finals, and Zeng topped the preliminary rankings at 67.250.
Evita Griskenas of Orland Park, Ill./North Shore Rhythmic Gymnastics Center won the junior rhythmic all-around title with a score of 60.700. The junior rhythmic ball and clubs champion was Nastasya Generalova of Los Angeles, Calif./California Rhythms, scoring 16.000 and 15.250, respectively.
The top eight in acrobatic gymnastics and trampoline advanced to Saturday's finals. The gymnasts leading the senior rankings for the prelims are: acro – Axel Osborne, Tiffani Williams, Moreno Valley, Calif./Realis Gymnastics Academy (mixed pair); Maren Merwarth, Jessica Renteria, San Antonio, Texas/Acrobatic Gymnastics of San Antonio (women's pair) and Lonnie Garrett, Josephina Kievsky, Mila Segel, Columbia, Md./Emilia's Acro Gymnastics and Cheer (women's group); and trampoline – Steven Gluckstein, Atlantic Highlands, N.J./Elite Trampoline Academy (men) and Clare Johnson Huntsville, Ala./The Matrix Gym Inc. (women).
For complete results, go to usagymchamps.com/results.
For the junior and senior elite levels for each discipline, the athletes are vying for national titles. Performances will determine berths on the junior and senior U.S. National Teams for rhythmic gymnastics and trampoline and tumbling. The Junior Olympic division has several different levels, and national titles will be awarded for each level and age group for each discipline. The Junior Olympic levels for each of the disciplines are: acrobatic gymnastics – Levels 6-10; rhythmic gymnastics – Levels 7-8; and trampoline and tumbling – Levels 8-10.
Live webcast
USA Gymnastics will provide live webcast coverage of three evening sessions from Greensboro with expert analysis from acrobatic gymnastics World Championships and World Games gold medalist Kristin Allen, six-time U.S. rhythmic gymnastics all-around champion Rebecca Sereda, and former trampoline and tumbling U.S. National Team member Peter Dodd. The webcasts of the senior elite competition will be available on the USA Gymnastics YouTube channel or USAGymChamps.com/live Thursday, Friday and Saturday from 6-9 p.m. ET. Former NCAA and Big Ten gymnastics champion Evan Heiter will join Allen, Sereda and Dodd as the host. The webcasts will be available worldwide free of charge on USAGymChamps.com/live.
About the USA Gymnastics Championships
On sale now, evening session tickets at the Greensboro Coliseum are: June 25 and 26, $25; and June 27, $30. The all-session pass, which grants access to all sessions at both venues, is $80. For the events at the Coliseum Complex's Special Events Center, a $30, single-day pass will be available onsite on competition days. Tickets may be purchased at the Greensboro Coliseum Box Office, ticketmaster.com, all Ticketmaster outlets, or by phone at 1-800-745-3000. For more information on the USA Gymnastics Championships, please go to USAGymChamps.com.
The local hosts for the event are the Greensboro Area Convention and Visitors Bureau, Greensboro Coliseum Complex, Tournament Hosts of Greensboro, Greensboro Sports Commission, and Sports & Properties, Inc. Greensboro played host to the AT&T American Cup, the premier international invitational held in the United States, and the Nastia Liukin Cup in 2014.
The schedule, outlined below, has the junior and senior elites competing June 25-27, with Junior Olympic sessions running all six days. NOTE: Level refers to the Junior Olympic competition level. The schedule is subject to change.
Saturday, June 27
Special Events Center
9 a.m. – Acrobatic gymnastics, Level 6; Trampoline, tumbling and double mini-trampoline, Level 8
1:30 p.m. – Acrobatic gymnastics, Levels 9-10; Rhythmic gymnastics, Level 8
Greensboro Coliseum
10:30 a.m. – Rhythmic gymnastics, senior elite all-around finals (two events)
2:30 p.m. – Trampoline, tumbling and double mini-trampoline, junior elite finals
6 p.m. – Acrobatic gymnastics, junior and senior elite finals; Rhythmic gymnastics, senior elite all-around finals; Trampoline, tumbling and double mini-trampoline, senior elite finals
Sunday, June 28
Special Events Center
9 a.m. – Rhythmic gymnastics, Level 8; Trampoline, tumbling and double mini-trampoline, Level 8
10:30 a.m. – Rhythmic gymnastics, Junior Olympic group; Trampoline, tumbling and double mini-trampoline, Level 8
Acrobatic gymnastics combines the beauty of dance with the strength and agility of acrobatics. Routines are choreographed to music and consist of dance, tumbling, and partner skills. At the elite level, each pair or group performs a balance, dynamic and combined routine. Pyramids and partner holds characterize the balance routine, while synchronized tumbling and intricate flight elements define the dynamic exercise. An acrobatic gymnastics pair consists of a base and a top. A women's group is comprised of three athletes – a base, middle and top partner – while a men's group has four athletes, a base, two middle partners and one top partner.
Rhythmic gymnastics is characterized by grace, beauty and elegance combined with dance and acrobatic elements, while working with ribbons, balls, hoops, ropes and clubs in a choreographed routine to music. The choreography must cover the entire floor and contain a balance of jumps, leaps, pivots, balances and flexibility movements. Only four of the apparatus are competed each quad, and the four for 2016 are hoop, ball, clubs and ribbon for seniors and hoop, ball, clubs and rope for juniors. Each movement involves a high degree of athletic skill. Physical abilities needed by a rhythmic gymnast include strength, power, flexibility, agility, dexterity, endurance and hand-eye coordination.
Trampoline events involve athletes using trampolines that can propel them up to 30 feet in the air, during which they can perform double and triple twisting somersaults. Tumbling utilizes elevated rod-floor runways that enable athletes to jump at heights more than 10 feet and execute a variety of acrobatic maneuvers. For the double-mini competition, the athlete makes a short run, leaps onto a small two-level trampoline, performs an aerial maneuver and dismounts onto a landing mat. Trampoline was added to the Olympic Games in 2000, and at the 2012 Olympic Games in London, the USA had its first athlete in history advance to the finals.
In 2014, the USA Gymnastics Championships was held at the KFC Yum! Center and Kentucky International Convention Center in Louisville, Ky.
Background information